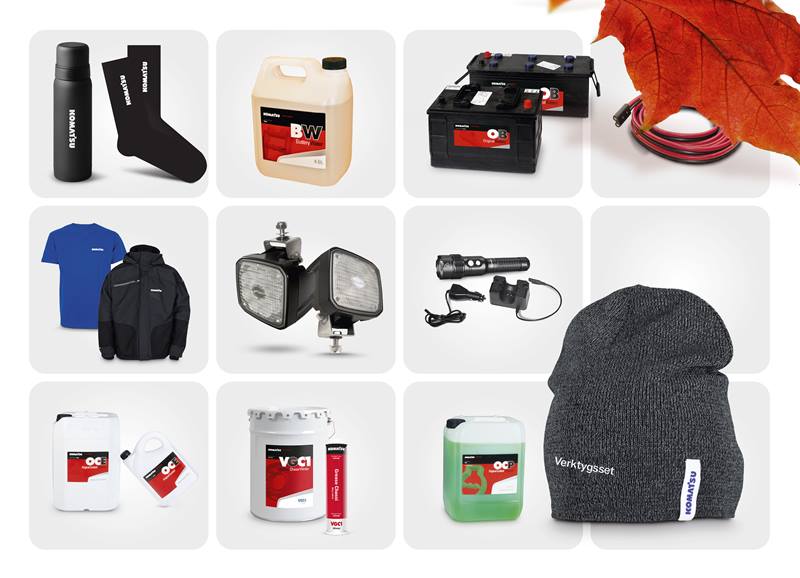 Autumn promotion
10-20% on selected products
Autumn can be a great season, assuming you've prepared both yourself and your machine for slightly rougher weather. We've kept this in mind when putting together our autumn offers, with special deals on everything from batteries, LED headlamps and glycol to jackets and socks for keeping you warm. So, in other words, it's time to prepare for the autumn!
Branded merchandise 20%
Reflective hat, Socks, Thermos, T-shirt and Winter Jacket
We currently have special offers on several products suitable for the autumn. A reflective hat helping to keep you warm as well as visible in the fading autumn light. Or maybe our new jacket with quilted linings to ensure both warmth and mobility? Have a look at www.komatsuforest.com/shop to discover the offers.
Batteries, jump leads and battery water 10-20%
In this year's autumn deals, we're offering both batteries and battery water at reduced prices. And, of course, these are all original Komatsu products, guaranteeing you top quality. 20% on batteries and 10% on battery water.
LED lighting 10%
The darkness of autumn need not stop you, not when we have special deals on a range of different LED headlamps, an adapter cable and a practical, rechargeable LED torch.
Glycol and VGC Winter 10%
Stock up on products that keep your machine running smoothly and offer peace of mind knowing that you'll avoid unnecessary downtime in the forest.