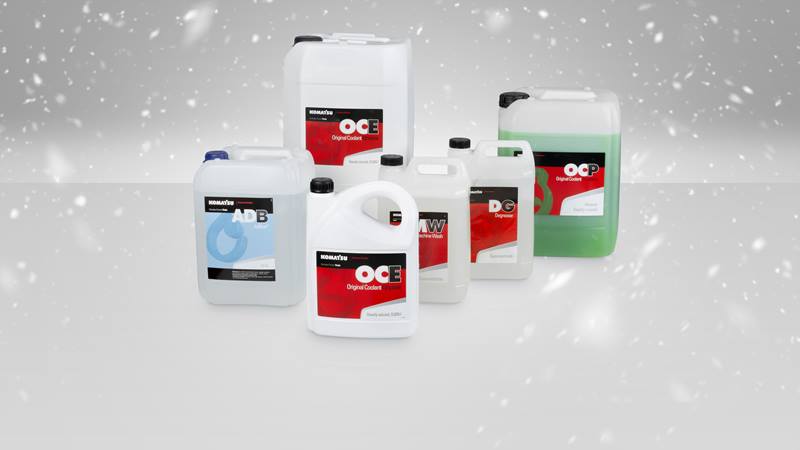 Original fluids at discount prices
10% discount during February
Komatsu's fluids are good news for both your machine and the environment. Stock up now in February while we're offering a 10% discount on all these products that help you to keep your machine clean and ready for its next assignment, even in the bleak winter months. Visit your nearest workshop!

AdBlue®/DEF. Komatsu ADB is specially designed to meet all Komatsu requirements and helps to reduce harmful nitrogen oxide emissions. What's more, it's safe to handle with no threat to you or the environment.

Original Coolant Propylene Natura. Komatsu's propylene-based glycol is tried and tested for your Komatsu machine. It's non-toxic for both humans and the environment as well as biodegradable. Ready mixed with antifreeze for protection down to -38°C.

Original Coolant Ethylene. Komatsu OCE is an ethylene-based glycol of high quality designed for your Komatsu machine. Helps to protect every engine part. Ready mixed with antifreeze for protection down to -30°C.

Degreaser. Komatsu DG is a ready mixed cold degreaser that effectively dissolves any stubborn, greasy dirt accumulated on your machine. Quick and easy cleaning with great results even at low temperatures.

Machine Wash. Komatsu MW is a concentrated and highly effective machine wash specially designed for cleaning engines and other heavily soiled machine components. Our machine wash dissolves oil and other greasy dirt without damaging sensitive components.

Promotional period 1–28 February or while stocks last.