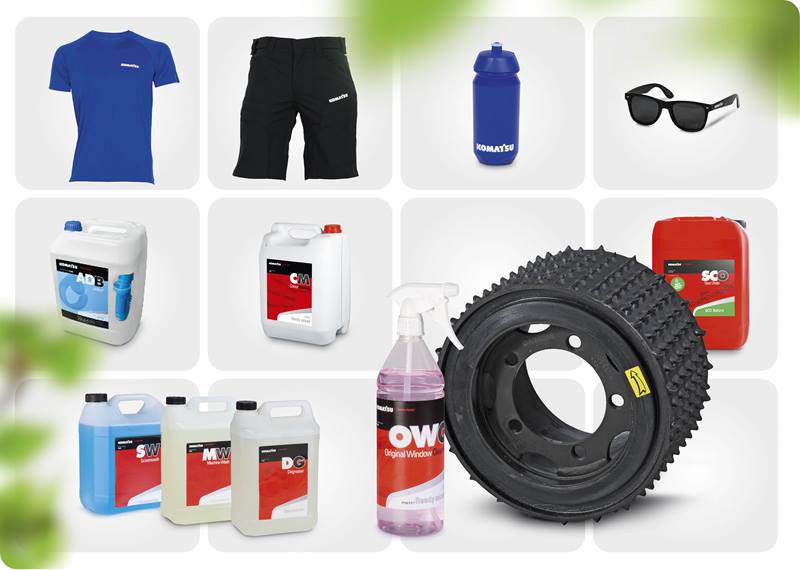 Spring promotion
For you and your machine
Now that we're heading towards warmer weather, here at Komatsu we'd like to make it even easier for you to treat both yourself and your machine to something extra. Which is why we have special offers on everything from feed rollers, fluids and oils to some of our branded merchandise suited to the season. You're ready for the spring, right?
Branded merchandise 20%
T-shirt, shorts, water bottle and sunglasses
We currently have special offers on several products suited to both work and pleasure. How about a t-shirt in soft, recycled polyester or a pair of comfortable stretch shorts? Teamed with matching sunglasses offering 100% UV 400 protection?
Feed rollers 10%
As all forest machine operators know, the right feed rollers for the job are extremely important for accuracy, productivity and handling. This spring, we're offering special deals on our feed rollers, making it the perfect time to replace yours. What could you and your machine do with?
Fluids 5-10%
AdBlue (10% on 10 litres, 5% on 208- and 1000-litres)
A non-toxic fluid that reduces your diesel engine's nitric oxide emissions and is safe to handle.
Saw machine oil SCO Natura (10% on 20 litres, 5% on 200 litres)
A year-round oil that has good adhesive properties, helping to reduce downtime, and low environmental impact.

Colour marking CM GEN II (10%)
A paint that adheres only to the cut surface rather than soaking into the log yet remains visible for several months. Available in both red and blue.

Washer fluid SW (10%)
A Nordic Swan Ecolabel certified washer fluid based on bioethanol. Delivered as a concentrate and leaves no film on the windscreen.

Window cleaner OWC (10%)
Delivered ready mixed and approved for use on polycarbonate glass windows.

Machine wash MW (10%)
Highly effective at dissolving oil and other greasy dirt on engines and other machine parts without damaging sensitive components.

Degreaser DG (10%)
A ready mixed cold degreaser that effectively dissolves both stubborn and greasy dirt.
The promotion will run through March, April and May 2022. Please contact your nearest dealer for more information. You can also find our branded merchandise at komatsuforest.com/shop