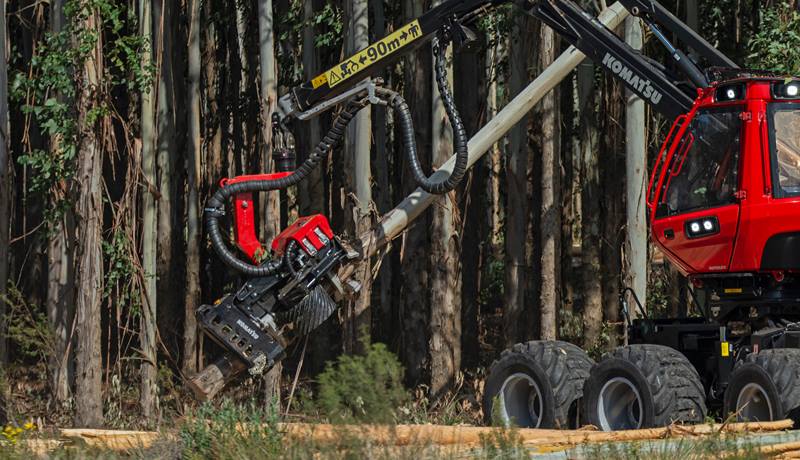 Komatsu S162E
Harvester head optimised for harvesting Eucalyptus
Komatsu S162E
Komatsu S162E is a productive harvester head specially developed for fast and efficient felling in Eucalyptus stands. It has a robust design based on well-known components, which gives the head an appreciated combination of reliability, productivity and profitability.
Weight (dry weight)
From 1 735 kg (3.825 lb)
Fell cut diameter, max
650 mm
Recommended working range
50-230 mm
Specifications
S162E
Overview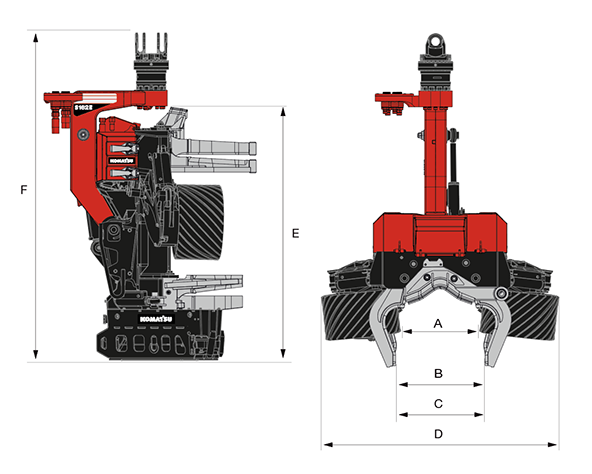 Dimensions
Height incl. rotator
2 280 mm
Height to top knife
1 803 mm
Roller opening, max
563 mm
Opening front knives
632 mm
Opening rear knives
624 mm
Specifications
Weight
Dry weight, incl rotator, from 1 735 kg
Feed wheel type
Eucalyptus
Delimbing knives, number
6
Delimbing dia., tip-to-tip
Front knives: 43-200 mm, Rear knives: 53-260 mm
Fell/Cut diam. theor. max
615 mm
Max hydraulic flow
330 l/min
Max hydraulic pressure
28 MPa
Notes
General information
Standard and extra equipment are market-dependent and vary between countries. The specification describes possible equipment, not that which is standard or optional. Stated weights are based on standard equipment. Specifications and designs are subject to change without notice.