"It feels both fun and important to be part of the sustainability journey and create the future of vehicles in the forest," says Stina, who was attracted to the role because she gets the opportunity to work with high-tech vehicles in a future industry in technology.
Stina is a civil engineer and has a background in both the automotive and forestry industries. Although she has experience from similar projects, it is new to now participate in building a completely new department.
The key to success, Stina believes, is about developing people, both at individual and team level. People with different backgrounds and experiences will need to collaborate and lift each other up.
"My impression so far of Komatsu Forest is that here works open and engaged people who are curious about each other. There is closeness and good cooperation both between departments and within the department, which facilitates our work forward, says Stina. We work in a newly built, modern facility in a development environment that is at the forefront of digital solutions. You also have a unique opportunity to participate from idea to finished product.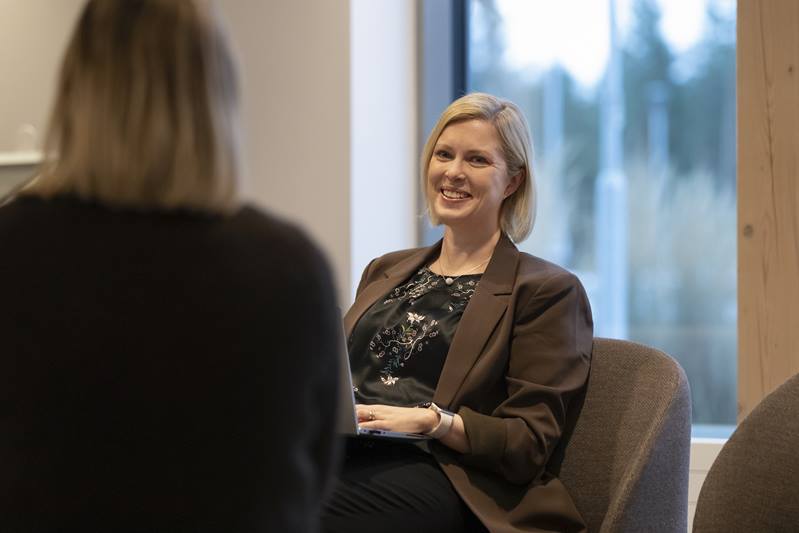 In particular, Stina sees three challenges with her new mission. In addition to the technical challenges that electrification entails, society's infrastructure for electricity distribution also needs to be developed. In addition, it is important to find the right employees with the right skills.
The large industrial investments made in Norrland create great competition for new employees – a challenge that the company partly takes on by establishing a local office in Stockholm.
The new department is emerging, and recruitment is underway. Above all, the company seeks electric vehicle developers and engineers who are specialists in software, hardware, mechanics, hydraulics and energy.
"We are looking for skilled engineers who want to break new ground," says Stina. "Komatsu Forest aims to reduce CO
2
- emissions from our machines by 50% by 2030, so within a few years I see that we have come a long way," Stina concludes.