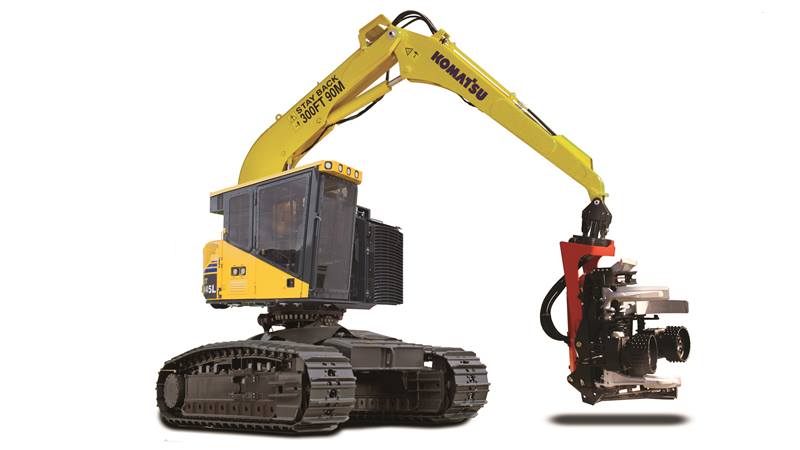 Komatsu XT445L-3
High Productivity, Reliability and Durability
Komatsu XT445L-3
The Komatsu XT445L-3 boasts a modern forestry cab that features a state-of-the-art control system and superior ergonomics, combines with multiple boom, arm & saw options, powerful swing torque, tractive effort and a robust undercarriage. The XT445L-3 delivers high productivity, reliability and durability.
Weight
Base Machine
68,180 lbs (30,926 kg)
Engine
Horsepower
PEAK: 300 HP 224 kW @ 2000 rpm RATED: 280 HP 209 kW @ 2200 rpm
Tractive Effort
74,315 lb (33710 kg)
Swing Torque
58,400 lb-ft (79.1 kNm)
Specifications
XT445L-3
Overview
Weight
Machine weight (no attachments)
Base Machine: 68,180 lbs (30,926 kg)
Operating weight
General information
Operating weight includes standard feller buncher boom, feller buncher 4-bar arm with tool tilt, 1/2 tank of fuel, rated capacity of lubricants, coolant, operator and standard equipment. Cutting attachment not included.
Engine
Torque
Peak Torque 1000 lb-ft (1356 Nm) @ 1500 rpm
Model
Cummins QSC8.3, Tier 3
Type
Water-cooled, 4-cycle, direct injection
Aspiration
Turbocharged and charge air cooled
No Of Cylinders
In-line, 6-cylinder
Piston displacement
505 in³ (8.3 liter)
Horsepower
Peak: 300 HP 224 kW @ 2000 rpm / Rated: 280 HP 209 kW @ 2200 rpm
Cooling
Side-by-side aluminum core type, engine coolant and charge air
Hydraulic system
Implement pump
Variable displacement piston. Maxflow - 91 gpm (344 liter/min)
Swing motor
Fixed displacement bent axis piston
Cooling
Separate swing-out cooler with thermostatically controlled fan
Track drive pump
2-Variable displacement piston pump Maxflow - 57 gpm (216 liter/min)
Auxilery pump
Dependant on hydraulic system selection: 45cc - 28 GPM (106 liter/min) / 71cc - 45 GPM (170 liter/min)
Travel motor
2-Variable displacement piston
Drive and brake system
Drive method
Hydrostatic, Independent closed loop
Max Tractive Effort
74,315 lb (33710 kg)
Max Travel Speed Hi
3.3 mph (5.3 km/h)
Max Travel Speed Lo
1.3 mph (2.1 km/h)
Steering control
Foot pedals
Boom performance
Boom Reach to Pin
Maximum: 21'6" (6530 mm) / Minimum 7'6" (2290 mm)
Cutting Swath
13'11" minimum cut to maximum cut (no attachment)
General information
High quality, high strength alloy steel box section design. Feller buncher boom, feller buncher 4-bar arm, designed for 20-22" high speed disc saws.
Lifting capacity
At ten feet
24,250 lb. (11000 kg)
At fifteen feet
18,200 lb. (8255 kg)
At twenty feet
11,600 lb. ( 5261 kg)
Electrical system
Alternator
75 ampere, 24V
Type
24V master disconnect
Control and information system
General information
IQAN-MD4 Digital Control System
Screen
7" (18cm) LED color touch screen
Notes
General information
Standard and extra equipment are market-dependent and vary between countries. The specification describes possible equipment, which is either standard or optional. Stated weights are based on standard equipment
Leveling system
Type
2-Cylinder, 4-way heavy duty
Swing system
Rotation
Continuous rotation
Bearing
Heavy duty, 22-bolt double row bearing
Swing torque
58,400 lb-ft (79.1 kNm)
Undercarriage
Carbody
HD boxed center frame structure with flat bottom and storage trunk
Track frame
Box-section, bolted
No of shoe links
43 per side
Attachments options
General information
Komatsu XA233-2 Bar saws, Komatsu Harvesting Heads, 21 & 22" High Speed Disc Saws. Check availability through your local dealer.
Standard equipment
Undercarriage
Final Drives: Komatsu with spring-applied oil released track brakes. Hydraulic track adjuster. Track Chain - grease sealed Komatsu 9" pitch chain, 43 links per side. Track drive: Closed loop. Track motors - 2-speed VDPP auto shift with variable speed control. Track rollers: 8 per side. Track shoes: 24" (600 mm) single grouser. Track sliders. Travel Pedals.
Guards and covers
Muffler with blanket. Rubber debris skirt.
Engine and related items
Air cleaner, dry type with air intake pre-cleaner. Engine compartment service light, Engine interface monitoring system, Engine fan: auto reversing with guard, Fuel water separator, Radiator: side-by-side aluminum core jacket water and hydraulic.
Electrical system
Alternator: 75 ampere 24V, Batteries: 2 x 12V 950 AH. Electrical system master disconnect switch, Electrical joystick/foot pedal controls.
Pumps
Track Drive: 2 x VDPP, 57 GPM (216 liter/min). Implement: 1 x VDPP, 91 gpm (344 liter/min).
Carbody
Wide 8'4" gauge 10'4" (3140 mm) overall width. Forestry carbody with track roller frame with removable track shoe support guides. Storage Trunk.
Hydraulics
Load sensing hydraulic system. Hydraulic oil cooler, auxiliary with temperature sensing fan. Hydraulic oil refill pump; 24V. Hydraulic tank vacuum pump.
Operator environment
ROPS/FOPS/TOPS/FOG/OPS/WCB/Oregon OSHA certified. Automatic air conditioner, heater & defroster with pressurization and 6 adjustable vents. 2-12V Outlets. Adjustable cellphone holder. Magnetic and moveable coat hook. Fold down/up cup holder. Literature box with cover. Lockable door. Stanley® vacuum bottle & lunch box cooler. Ventilation fan. LED interior dome light. Radio: AM/FM Weather Band stereo with iPod/MP3 input jack. Seat: Adjustable high back suspension, 3" retractable seat belt. Back-up alarm.
Other standard equipment
Continuous Rotation. Sure Grip Control Handles. Emergency escapes: 3 - Front window, side door and roof hatch. Fire extinguisher 10 lb.-Hand held. Instrument panel with switches; LED warning lights and engine stop button. Swing bearing: HD 22 bolt single row. Swing motor: 56cc. Windows: Polycarbonate, Front window 1.25" (32mm), Left & right window 0.5" (13 mm), Skylight window 0.5" (13 mm), Rear window 0.5" (13 mm). 11 LED Work lights
Optional equipment
Arm
Feller Buncher: 13'0" (3960 mm) straight with tree delflector / Harvester: 13'8" (4165 mm) non-telescopic. 13'3" (4038 mm) w/ 6' (1828 mm) telescopic, 13'3" (6477 mm) w/8' (2438 mm) telescopic.
Boom
14'2" (4320 mm) Standard length, 16'1" (4902 mm) Extended length
Hydraulic
High speed disc saw, Bar saw, Bar saw with lateral tilt, Combination bar saw/high speed disc saw, Intermittent disc saw, 4-Harvesting/Processing heads. Contact your local Komatsu Dealer for more information.
Track shoe
28" (700 mm) single grouser
Other optional equipment
Carrier rollers. Fire Suppression (Automatic dry chemical). 120V Block Heater. Charge oil relief heater. Espar® fuel-fired jacket water and hydraulic oil pre-heater, Pump drive oil cooler, 71cc Auxiliary pump, KAB vented and heated seat.