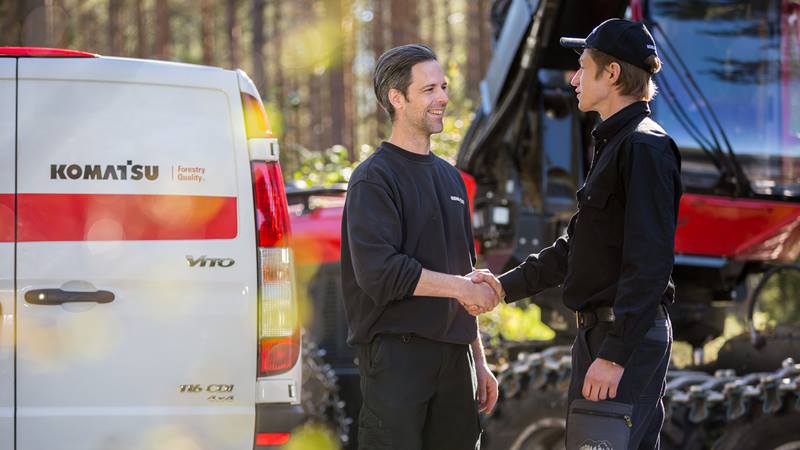 ProAct 2.0
A service agreement for greater profitability and peace of mind
Our ProAct 2.0 service agreement simplifies your machine ownership while increasing your peace of mind and profitability. You gain a reliable machine and full control over its condition and economy – all for a fixed low cost based on engine hours.
ProAct 2.0 gives you a comprehensive solution for service and spare parts, with planned inspections and proactive service measures at just the right times to prevent unscheduled downtime – following a timetable tailored to you and your business. This enables you to focus on harvesting forest while we take care of your machine, ensuring that it's ready to perform at its best.

To ensure that you have a machine optimised for high and reliable productivity, ProAct 2.0 is comprised of four important components encompassing simple inspections, proactive service, tailored training and regular follow-ups.
All this is included in ProAct 2.0 for a fixed price/engine hour:
Inspection and service visits of technicians according to Komatsu Forest's current service plan
Free mileage costs for inspection and service visits
MaxiFleet Advanced licens with MaxiFleet Service module
Service on new machine 250 hours
Factory Warranty for 2,500 hours
DAFO Fire Suppression System inspection
Komatsu original service oils and filter kits
Oil sample analysis for hydraulic oil
Replacement keyboard
Possibility of an easily accessible field stock including proposal for recommended content
10% discount at first purchase of recommended field stock parts
Monthly financial follow-up
Monthly machine preformance ans productivity reports
The content varies by market and is continually adjusted and optimised.